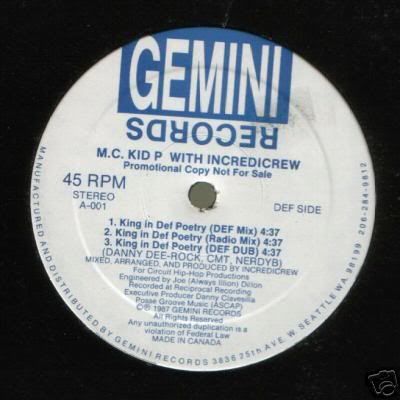 This was my first record I ever produced/released. I was in high school and honestly really didn't know what I was doing at the time. Me and my best friend CMT formed a duo called Incredicrew and we would dj and make beats. I had like 7 drum machines, a TR-808, TR-909, Mattel Synsonics, Sequential Tom, TR-707, TR-727, and a small Korg that I forgot the name of. Lots of equipment for a 15 year old kid. Believe it or not the 808 was basically FREE! I traded a kid in school a pair of sneakers for a 707 and traded the 707 to Dan Peters of Mud Honey for his 808. I didn't even buy the sneakers, my girlfriend got them for me. Guess I was hustlin' and grindin' even back then. Anyways an older friend of mine was a freshman in college and told me his dorm room mate could rap. He brought him over to my place one weekend and we ended up recording about 15 songs on the reel to reel 4 track that CMT swiped from his step dad! So now through todays technology of the internet and twenty some odd years later I can share some of this with the world. Pictured above was our first and only record that was ever pressed up. We did it ourselves and had no distribution. Most copes were sent to Steve Fourniers Rap Pool Of America and the reamaining copies went to various indy mom and pop stores nation wide and the rest went to Honey B's record pool. There were 1500 copies pressed in total. I believe I only have one left personally. There is one on display at the EMP museum here in Seattle. So while doing a google search I found this on a record collecting website:
If you think this record is easy to find you are DEFINATELY WRONG! HERE COMES AN EXTREMELY HARD TO FIND AND HIGHLY COLLECTABLE SEATTLE OLD SCHOOL HIP HOP WAX with awesome rap vocals and awesome beats and scratches. One of the coolest old school rap tunes I heard! This track will blow you off! If you like old school hip hop from the late 80s like Makeba & Scratch, Pelon, Main Source or Paul C productions, this is definately for you! Not too many pressed! DEFINATELY ORIGINAL PROMOTIONAL COPY! I guess, this one came only as a promo out only, since I never saw a regular copy, and 2 people I know who have it, also own a promo copy. The one and only release on this small independent label. Vinyl includes 2 fantastic late 80s rap tunes. AN EXTREMELY INDEMAND HIP HOP WAX AMONG JAPENESE HIP HOP COLLECTORS! Second copy I get in my hands within over 12 years of digging. For the real collector and old school rap fan a MUST! You will love it.
Hmm...... Not bad being compared to a legend like Paul C! Once we released the record it instantly shot to number one on Nes Rodriguez's Rap Attack radio show. I was downtown one day and a jeep rolled by blasting it out of his sound system. I was really trippin' when I heard that. The clothing co. TROOP was about to come out and they called us up and sponsored us and we ended up getting a record deal through Enigma. Good things were starting to happen for us. However, it ended before it all started. We got our advance check and hit a real recording studio 24/7 and recorded two albums worth of material. We turned the masters in about a month past due date deadline. After the label received the masters they shelved the project and released us from the contract. Being young and new to the game that series of events crushed our dreams of being a rap group. We all went our separate ways and begun our lives. I didn't dj or buy records for at least 5 years after this happened and sold most of the equipment I had. Got a job cooking in a restaurant and was your average joe. It wasn't until the release of Main Source's "Breaking Atoms" album that I had no interest in music, dj'ing or hip hop. I took one listen to that album and I dove right back in head first and have never looked back. Here is a flyer from our very first performance.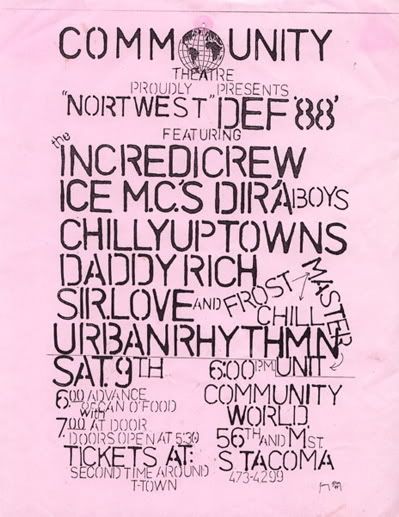 Untitled Unreleased Demo
MC Kid P & Incredicrew
Download Here
http://www.divshare.com/download/6327592-49a
High Powered Hip Hop (Orig. Unreleased Demo Version)
MC Kid P & Incredicrew
Download Here
http://www.divshare.com/download/6327590-790