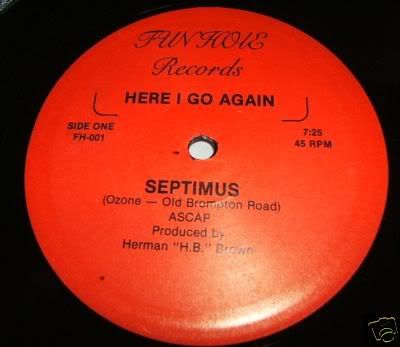 The best thing about me tracking down local Seattle musician's from the 70's is discovering music that I did not know existed that is right here from my own city. I knew Herman Brown was in Ozone and did stuff with Tina Marie as well as playing in different bands. What I did not know was that he released a 12" modern soul single in the 80's under the band name Septimus!!! Just when I think I know it all I get a dose of reality and learn about something new or unknown.
Well, when we hung out a few days back I was blessed with a sealed copy. Of course I had to share it with the world. It's all about the music and letting people know about it and get to listen to it even if it's 20 some odd years later. Enjoy.
Septimus - "Here I Go Again"
http://www.divshare.com/download/8711450-4c6
Download Here