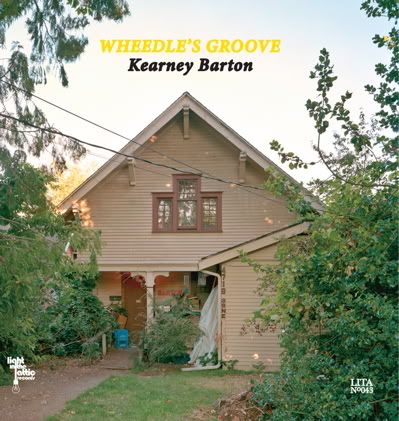 Out September 8th on Light In The Attic records, Kearney Barton is a serious funk throw down and an original work of art, featuring new recordings performed by Seattle soul legends Patrinell (Pastor Pat Wright) Staten, Robbie Hill, Ron Buford, Ural Thomas, members of Black On White Affair, Cookin' Bag, and Cold Bold & Together.
Recorded with legendary NW sound engineer Kearney Barton at his historical studio Audio Recording, Kearney Barton (the record) by Wheedle's Groove (the band) recaptures the energy of a legendary Seattle event held in celebration of the original Wheedle's Groove compilation.
Things you need to know about this album:
1) The name of the band is Wheedle's Groove.
2) The name of the album is Kearney Barton.
3) Most of the performers are in their 60s.
4) It grew out of an urge to recreate magic.
Magic that could only have been seen on a small stage, in a packed theatre, in August of 2004. That was when Light In The Attic released a landmark compilation called Wheedle's Groove: Seattle's Finest In Funk & Soul 1965-75 (being re-released September 8th on cd, heavy weight vinyl, and digitally to coincide with Kearney Barton), and to celebrate brought together many of those original Seattle funk and soul artists for a one-night-only reunion concert, led by young blood music director and KEXP DJ Johnny Horn, and featuring Robbie Hill, Overton Berry, Patrinell Staten, Ron Buford, and KYAC's very own #1 boss-jock Robert Nesbitt.
The following day, still on a high from the show, LITA, Horn, DJ Supreme La Rock, and lead-producer Dynomite D (Beastie Boys) birthed the idea of cutting a new album – covers and originals - with some of these local music legends. So the choice was made to record all analog at the very studio where it all began - Audio Recording - with the man who not only fostered an original Northwest sound but engineered a handful of the original Wheedle's Groove tracks - studio wiz Kearney Barton (The Sonics, The Wailers, Black On White Affair).
Now, 5 years later, Light In The Attic is happy to put forth Wheedle's Groove - Kearney Barton, an album of 9 new earth shaking, head nodding grooves, including Patrinell (Pastor Pat Wright) Staten and the Total Experience Gospel Choir's interpretation of Soundgarden's "Jesus Christ Pose," Overton Berry's keyboard led "Humpty Dumpty" (originally recorded by Placebo/Marc Moulin), and the long overdue reunion of Ron Buford with Ural Thomas - the talented pair behind the 1965 local smash "Deep Soul". Also in the mix... stay tuned for a feature-length film documentary about Seattle's classic soul-funk scene.
Super sonic Seattle funk and soul, it's time to let the world know the score!
Produced by yours truly along with Dynomite D & Johnny Horn