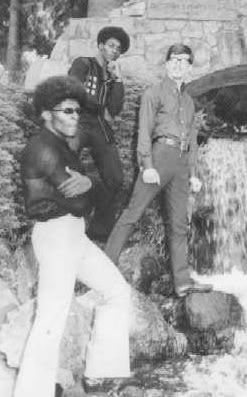 Black On White Affair
Many of you are aware about a project I put together a few years back for the Light In The Attic records label called "Wheedles Groove" a collection of original soul & funk tracks from Seattle during the late 60's early 70's era. While working on this project I was able to meet some of the actual members from these bands, radio djs from that era and family members. For the record release party we resurrected Robbie Hill's Family Affair & Bro-Ham, as well as performances from Overton Berry and Patrinell Staton. Historic night to say the least. I remember when I approached the label with my idea they weren't really trying to hear me. Not sure what made them change their minds but they ended up getting with the program. However the actual cd that was released contained tracks that they wanted on the comp and they removed some that I had highly suggested. I also, made the comment to them while at their office one day that they should release a dvd as well. Matt the label owner just gave me a giggle. A month passes and they call me up to ask if they can interview me for a documentary they are doing on Wheedles! Here is the trailer for it.
I did the final interview with the films producer last week and it's slated for release in 09'. You can see the original studio these records were made at and hear me talk about the legendary engineer Kearny Barton in the movie trailer. While we were there, being the record hunting digger that I am - I asked about any other groups that never came out, master tapes, etc. Kearny says "I'll be right back" and walks back in the studio 10 minutes later with a 1/4" reel tape in a box labeled "Black On White Affair". He explains that its the only tape he has from the soul funk stuff he did during that time. Soul Swingers, and all others have vanished. He has no idea where they are at. His place is a total trip. There is stuff literally everywhere. It looks like he hasn't cleaned it and or added any new equipment since the late 60's except for a cd burner. I bet if he let anyone clean the place up some real gems could be found. Anyway, I got the songs from that master reel. I wish to share with you this previously unreleased track from the same recording sessions as "A Bunch Of Changes" and "Bold Soul Brother, Bold Soul Sister".
Untitled and Unreleased
Black On White Affair
You Can Download The Track Here
http://www.divshare.com/download/6152765-21d
You'll notice a tape drop out in the song that probably held this up from being released. I also, wanted to post this video that a Seattle central community college student did on the Hill Brothers.
I'm still looking and searching for original records, pictures, posters, master reels, and any information on Seattle or Northwest region Soul, Funk, and Disco from the 70's & 80's. If you were in any of these bands, a dj back then, a promoter or manager, friends of, or have any of this stuff please contact me. It would be greatly appreciated. djsupreme@comcast.net